gallery

Story of a Wood-fired Kiln

In 1997, potter
Jody Johnstone
built a 20-foot long anagama
kiln, styled after those she fired during a three-year
apprenticeship in Bizen, Japan.

Twice yearly, she invites three other potters to join her in
firing over 800 pieces at her studio in Swanville (Belfast),
Maine. I was fortunate to have been a member of her crew
from 2003- 2008. Below, you will find some photos of the
process.

(You can see photos of the wood kiln I am building with my husband,
Nathan, by clicking
here
.)


Photos courtesy of Joy Bridy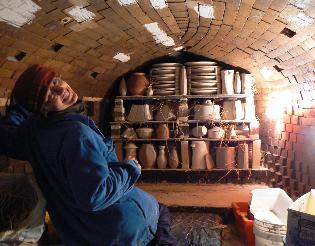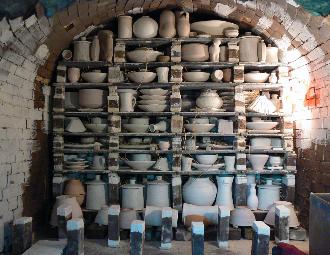 We take great care in loading each piece
of unfired pottery onto strategically
placed shelves and supports. In fact, the
loading takes us 4 days! The pots are
largely unglazed, as they will be blanketed
with large amounts of wood ash that
accumulates over the 8-day firing. On
occasion, rice straw is loaded into the
pots- it later melts, creating enhanced
surfaces on the pieces.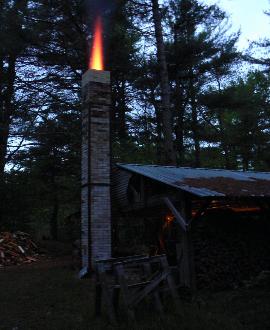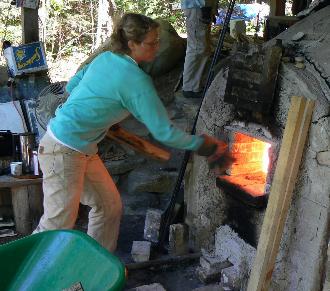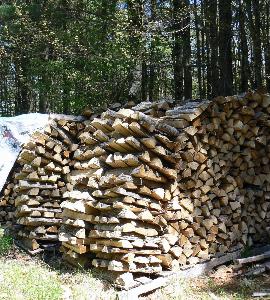 Once the pots have all been loaded into
the kiln, we start a small fire that begins
to burn at the front of the kiln. As each
day progresses, the kiln gains
temperature, peaking at about 2250
degrees Fahrenheit. Over these 8 days,
we burn over 5 cords of wood, keeping
the fire burning 24 hours a day. By the
final day, the flame makes its way from
the mouth of the kiln clear out the
chimney- a distance of over 25 feet!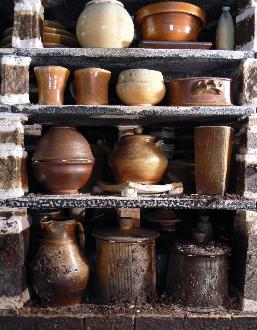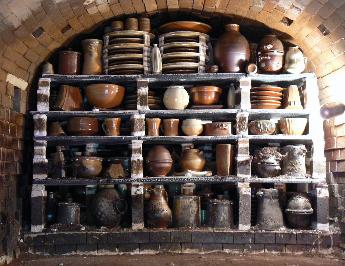 After the last log is stoked, the kiln cools for a full
week before we know how anything looks! When
we finally brick down the door, we find many
beautiful (and occasionally quite crusty) new pots.
Each is extremely unique, as its specific placement
in the kiln determines the final result. At right,
you get a sense of just how large the kiln is, and the
enormity of our task!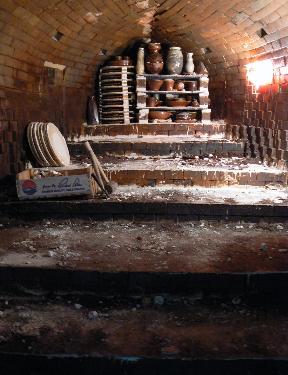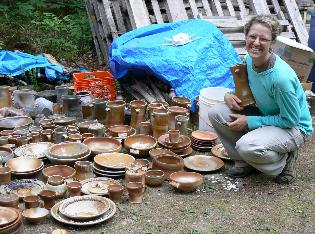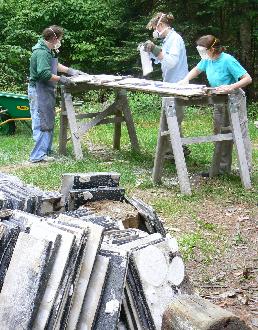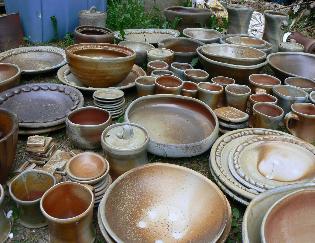 Even after all of the pots are unloaded, our work is not done. Each
shelf and brick from the kiln must be scraped clear of wood-ash and
wading, the clay that separates the shelves from the supports.
Additionally, each piece of pottery must be sanded and washed to be
ready for use. It's a laborious process, but one that we all enjoy
thoroughly . . . in fact, we're already looking forward to the next firing!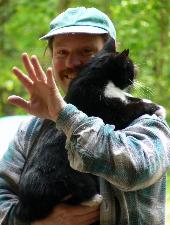 Potter David and firing buddy,
Mosey.